[ad_1]
The weekend is approaching, your fridge is filled with cheese and you want to organize a COVID-compliant picnic with other fully vaccinated adults that your local rules dictate. But choose your guests wisely – only fully vaccinated people can attend, and violations will result in fines.
These new rules in New South Wales and Victoria place the responsibility for police vaccination on individuals. Vaccination records Eventually, it may allow businesses to check people's vaccination status upon entry, but there is no app that can be scanned before they meet for a picnic or home event.
How do you find out who is vaccinated and what do you do with this information?
How do you start the conversation?
Vaccinating can feel like a charged topic, something you may not want to discuss when you can avoid it. But it doesn't have to be a minefield. We can actually take away some tips on dealing with tricky personal topics from the field sexual health.
First, try to talk about vaccinations before confirming your plans with someone and before sharing the plans with others. Once you're already at the picnic, the stakes are much higher. It's more likely that you'll either join in with something that doesn't feel right to you or get into an argument.
First, offer your own vaccination status. You could say something like this:
For your information, I got my second dose last month. These new rules mean that everyone who comes must be vaccinated. Did you have both cans? I want to make sure we're fine.
Keep the question casual. In these circumstances, it makes sense to ask someone about their vaccination status – it's not because you don't trust the person.
What if the person says no?
Don't jump to conclusions. Depending on your relationship with the person, you may want to learn more. As you approach a conversation about COVID-19 vaccines, start with an open mind and be ready to listen.
Ask them if they would like to discuss why they are not vaccinated. Maybe they have certain concerns, maybe they are waiting for an appointment or a different vaccine than the one that is available to them now.
Let them share all of their concerns before jumping in and trying to answer or correct them.
If they are open to it, you can help them Weigh the risks and benefits of the vaccines, share some facts about Safety and effectivenessor tell them what made you want to be vaccinated.
Talking about your own experiences can help Normalize vaccination.
The person you are speaking to may not be undecided about the vaccine – they may be strongly against it.
If so, your best strategy may be to pin down your position and end the conversation. You could say:
Okay, I don't think so. However, we have to stick to the rules.
Quarrel with people who Strongly reject vaccination is seldom – if ever – effective and could ruin your relationship.
Although there are rules that exclude unvaccinated people for the time being, there is no need to take someone out of your life for not being vaccinated.
As those rules are relaxed and we move from suppressing COVID-19 to living with COVID-19, we need to recalibrate our risk assessments.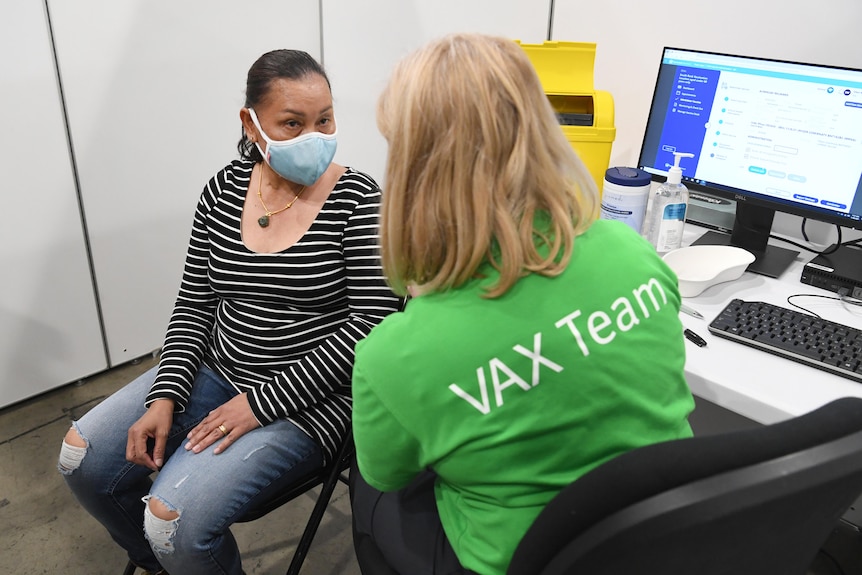 Of course, these decisions are personal in nature, but if you and your family are fully vaccinated you are at risk of contracting COVID-19, especially outdoors significantly reduced.
If you have children who are too young to be vaccinated right now, the risks from COVID-19 are small, except for certain circumstances So you have to weigh health risks against social benefits.
Social exclusion leads to conspiratorial thinking – in other words, cutting people off for believing in conspiracy theories often leaves them further down the rabbit hole without being challenged by alternative views.
You can have a more positive impact by cultivating a relationship within your boundaries and exemplifying the behavior you believe in.
What about the picnic?
If your friend is a little hesitant or firm against the vaccine, your picnic will have to wait with him.
In explaining this, you may want to distance yourself from the rules. For example, you could say:
The new rules say … Unfortunately, it sounds like we can't meet for the time being. It's just a temporary thing – we should all be able to get back to normal in a few weeks.
You didn't make the rules, but we all live with them for now. If applicable, indicate how important the relationship is.
From the beginning, Manage COVID-19 well has asked us to collect the evidence, comply with public health regulations and, if we so choose, weigh the risks of an activity against the benefits.
For these sensitive social negotiations over vaccines, masks and other measures, we need to communicate carefully to keep in touch with one another as securely as possible.
Jessica Kaufman is a research fellow with the Vaccine Uptake Group at the Murdoch Children's Research Institute. Julie Leask is a professor at the University of Sydney. This piece appeared on first The conversation.
Loading form …
[ad_2]